Japan Tax Free Shop








About tax exemption
Shimokura Musical Instrument Co. provides tax-free services to travelers. There will be 8% tax exemption from the purchase price.
Shimokura Musical Instruments offers a storewide discount on musical instruments and accessories. In addition, as a special offer, the customers from abroad are exempt from the 8% consumer tax in Japan. This special offer is valid for a purchase of any musical instruments of JPY 10,000 or more in total. Please note that the special offer is valid for a purchase of consumable goods that are JPY 5,000 or more but not exceeding JPY 500,000.
Please bring your passport when you visit our store.
Guitar & Bass

Our repair center inspects and tunes all pre-owned wind instruments to ensure peace of mind!

FENDER JAPAN & Gibson - Used Guitar -


About tax exemption of a musical instrument accessary.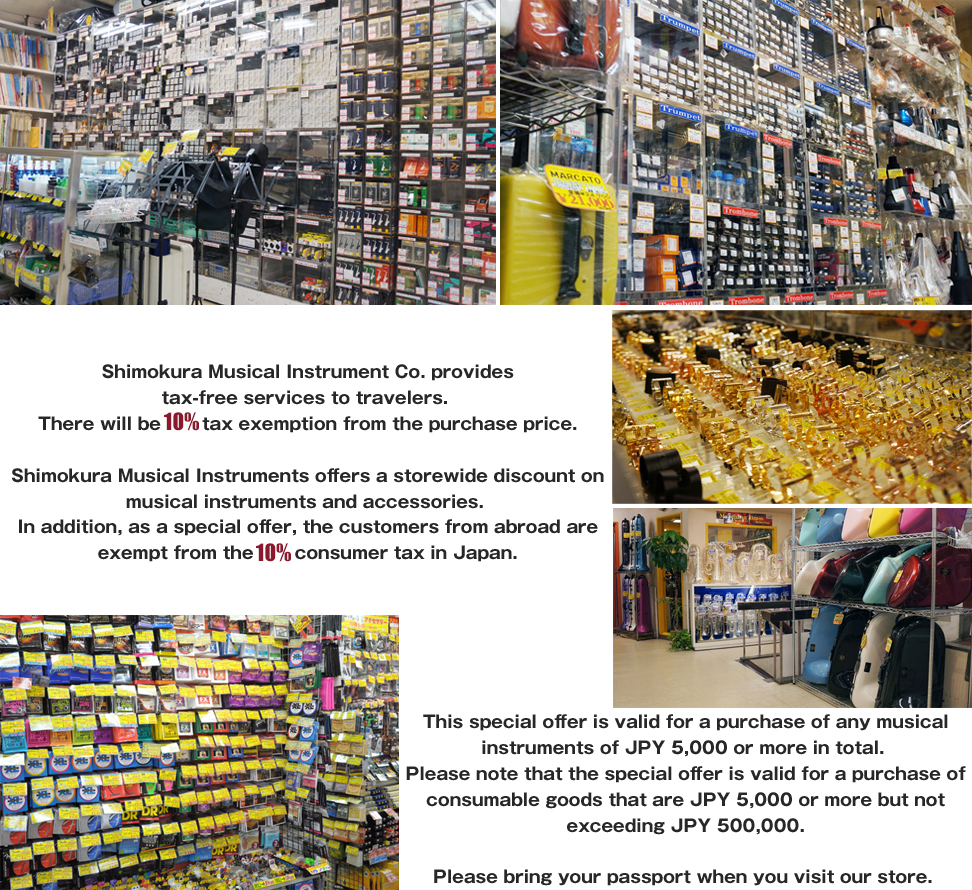 Route map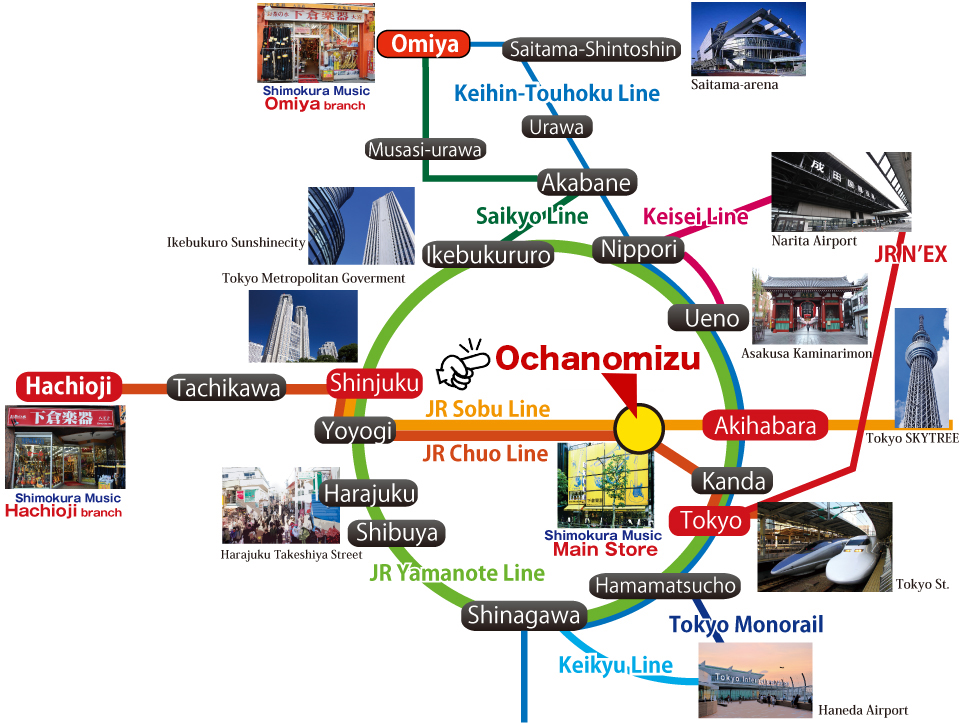 Shimokura Main Store
Tel:03-3293-7706
Address:2-2, Kanda Surugadai, Chiyoda-ku, Tokyo
Used Guitar & Bass Shop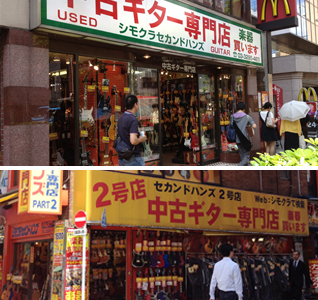 Tel:03-3295-4611
Address:Chiyoda-ku, Tokyo Kanda Surugadai 2-1-33
The 1st floor of the Omi Brotherhood building
Shimokura Violin Shop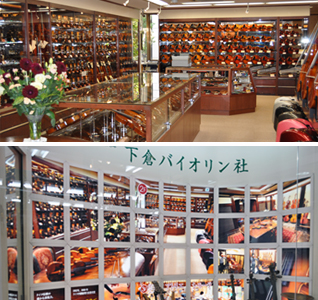 Tel:03-3294-7706
Address:Chiyoda-ku, Tokyo Kanda Surugadai 2-1-33
The 2nd floor of the Omi Brotherhood building
Omiya Branch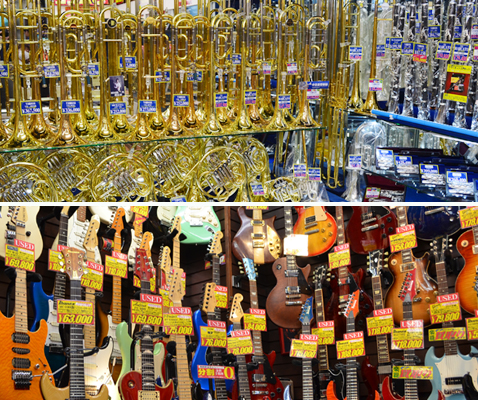 Tel:048-643-6500
Address:2-92, Daimoncho, Omiya-ku, Saitama-shi, Saitama
Hachioji Branch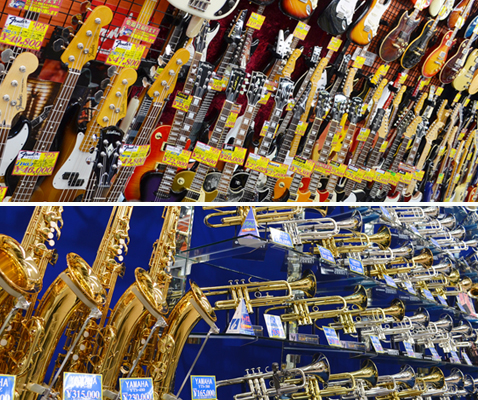 Tel:042-646-7706
Address:4-7-3, Myojincho, Hachioji-shi, Tokyo
e-Mail shimokura@rio.odn.ne.jp
Map
Ochanomizu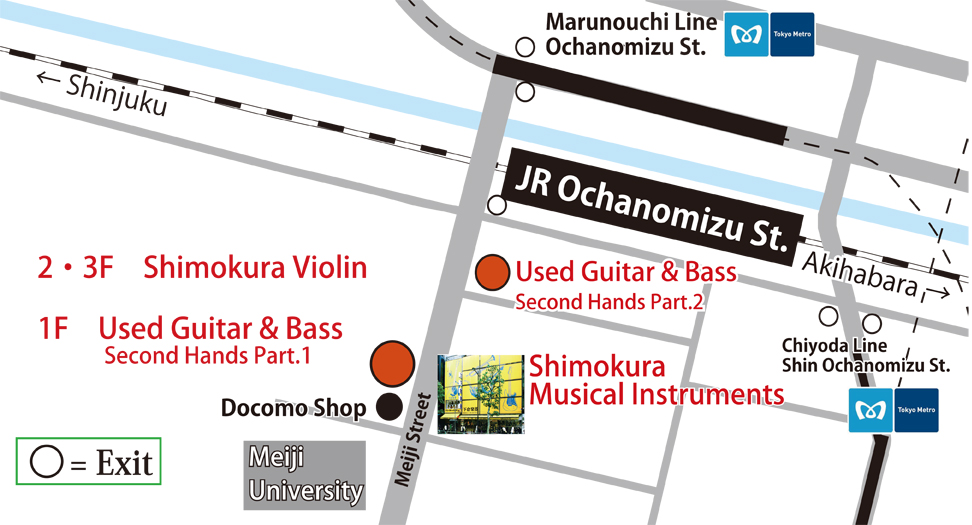 Located just a minutes' walk from Ochanomizu Station, a next station to Akihabara Station.
To access by train, JR or Subway is also convenient too. The neighboring stations are JR Ochanomizu Station, Ochanomizu Station Marunouchi Line subway or the Shin-Ochanomizu Station Chiyoda Line subway.
Store Hours
Sunday & Public holiday:10:00 AM - 6:30 PM
Mon-Sat:10:40 AM - 7:25 PM
Brands of Wind Instruments












Brands of Guitar & Bass





















Shimokura Original Products
We're also developing our original private brand. This will allow us to not only manufacture the instrument in house but to control and maintain the products that will allow us to accommodate our customers Eneeds in addition to providing products of good quality with a low purchase price.
The Marcato - Original Wind Instruments -

Flute, Saxophone, Clarinet, Trumpet, Pocket Trumpet , Cornet, Flugel Horn, Trombone , Horn , Euphonium , Tuba , Marching Brass , Case , Accessories
S.Galaner - Original Guitar , Bass , Amp , Ukulele-

Information